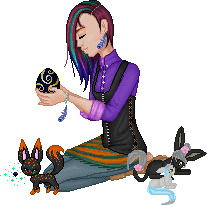 base
ok here is the deal i will make dolls for you i'm going to go with:
3 avatars
I will not make Harry potter,Naruto or anything like that in general.
only your OC's please i really hate doing fanart unless it's for my own gain and i normally suck at it.
I will take art trades but i have to ask you wait for me to do mine frist so you get it.
you must chose a base. If i don't wanna use it i'll let you know. Cause sorry there it some basemakers i will not use the bases of.
I can edit some but if you request it. It'll cost a bit more. However if i do it cause i want to you get it for free.
Upload to your own server.
Art trades are alway open.
Credit me by linking back to:
My profile,
my da (stormnicki)
or my site (
http://www.geocities.ws/soso/[thumbnail
][/thumbnail]
When ordering a doll(or chibi) please state Eye and hair color please.
when picked up and paid please edit your post to say so. Thank You
payment is:pay what you think it's worth, but no lower then
50 avie? unless you have promo code XD
for exsamples: check my
DA
~~~~~~~~~~~~~~~~~~~~~~~~~~~~~~~~~~~~~~~~~~~~~~~~~~~~~
Waiting
DOLLS
1.Kenly-Ember
2.
3.
PICK UP'S!
Dolls
1.
2.
3.
4.