In this shop I'm selling my pixel creations!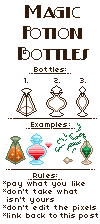 When ordering please be as descriptive as you can! While I'll try my best to deliver what you want, and of course I'll edit if it turns out wrong, it's probably easier for both of us if I get it right the first time round
Order form:
Code: Select all
[b]Which bottle?[/b]:
[b]Glass colour[/b]: (Clear, green, etc)
[b]Potion colour[/b]:
[b]Extras[/b]:(Text, sparkles, smoke, whatever you can think of!)
I'm ONLY taking THREE orders at a time.
Working on:
If you pay please send a message/edit your post as Glam! doesn't automatically notify me. Thanks!
Pickup area:
LucyKitsch :
Shixam:

FrizzKitty: