In case you're wondering or forgot, I have the "Newer" Paint, version for Vista, so I can't do the cool tricks. I've found solutions that are pretty easy for backround patterns, but not patterns on clothes. Let me spell it out for you: I-M-P-O-S-S-I-B-L-E. All you cool old MSPaint-ers can do that cool trick that's metioned in those tutorials. It doesn't work for me.
Despite this fact, I've challenged myself with this very patterned doll: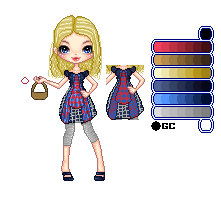 Base.
Palettes.
EDIT: Alright, so I added shading, hair, and the patterns on the shaded dress.
Stuff I want help with:
1. Do you like the shading? I like it, personally. Its like a mixture of my old shading style and my new one.
2. How do you shade a wooven basket? I gots no clue.
3. Do you think the patterns go well enough?
4. Any more details I should add?
5. Do you think it looks like she has a forehead?