Ok so I finally got around to doing an actual avatar again and the ruffles are KILLING me! I've always sucked at them but this is just ridiculous. So Help? Please? Redline the crap out of it if you have to.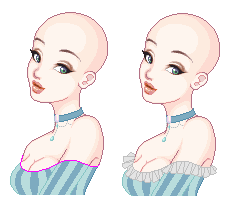 So! Obviously I'm wanting ruffles at the collar line but mine are too flat. I'm not looking for the ones that stick straight out but I did want them to have a bit of bounce to them. Of course with the angle some might stick straight out, I just didn't know how to do it and where to do it. There are a surprising lack of tuts on this.
Base is obviously Glam exclusive by Hollay.
P.S. Do my stripes look ok?
EDIT: Ok so I looked at the details a bit more (thank you THoney) and did the cinches at the top of the ruffles and tried to do a more flowy type instead of the strict way I was doing them. I STILL don't like how the ones on the arm look but I'm a LOT more happy with the rest of it. Any CC, tips, or anything though?