So I do have a mentor but she is one of the judges for TSP so I can't really ask for her help on this.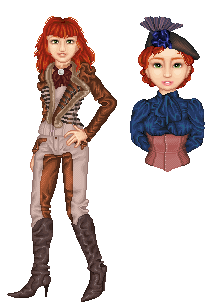 bases
portrait (she's a finishing school etiquette teacher hence the glazed look on her face) - I would like help with the hair and the hat. the hair is lifeless, but it's supposed to be pulled back. for the hat, Im unsure of the blue thing thats on there. its just a random piece of cloth base off this pic
http://www.mayahansen.com/fashion/websi ... l&lang=ENG
(very last picture)
should I add something more to it???
fb - the shading is inspired by chewbroccoli's stuff. I like all of the folds she does. my problem with this is she's a time traveller and i dont know how to get that across. I can do the obligatory pocket watch, but anything else?
any other C+C that you see is welcome and encouraged ^^