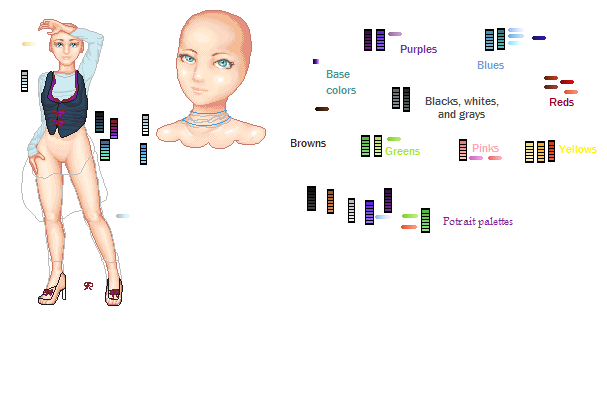 Fullbody Base
and
Potrait Base (Note: Its not really on her site, but she asks people to credit her site. You can find the base on pixel-empire.net.)
Alrighty, here's the changes I made since I last showed off a WIP on Dollchat last night:
- Changed the palettes to go with a blue-ish theme; yes even the red is going with it
- Added the main color for the top and vest
- Got 'rid of the stuff for the base edits (Palettes, face from the fullbody, ect.)
- Got 'rid of the idea for the sleeve(s) and the copper-ish palette; decided I really didn't like either
For those that can't understand the outfit: she is wearing a long-sleeved, ruffly collared top, a skirt that is only mainly in the back, pants underneath with tucked in layers (Goes into shoes), mary-jane, non-pointy toe heels (1. Because I suck at them, 2. since the character doesn't like pointy-toe heels) with ribbons, and a ruffly vest with matching ribbons with the shoes'.
And a couple ideas I have (Feel free to shoot down or agree to): matching ribbons on pants left side, fingerless black gloves, a pocketwatch that's she holds with the hand over her head, a map held by her other hand, and heart, diamond, clover, and club pattern on the back of her skirt.
And in case you don't get any of the ideas (Or outfit): she is my interpretation of a Steampunk Alice from Alice in Wonderland. 8D