YAY!
Well I've been making bases for awhile now but I've never actually released any, so for the very first time ever I'm releasing the base I just finished. I haven't even dolled on it yet myself. So I hope you guys like her.
She's my fishy base because she was based off a picture I did back in highschool that had a giant clownfish in it. I revamped the drawing of the girl and pixelled it. Very simplistic shading compared to what I usually do but thats cause I was tired of using 18 billion shades.
Rules
1.
Please link back to me at playboy-moogle.deviantart.com if you use
2.
You may edit as much as you want, if you do I want to see them.
3.
Please don't give out to the homies the original or the edits.
4.
No frankendolling, and please don't claim as your own.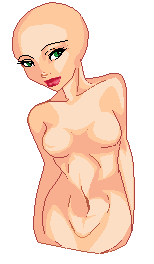 If you make any dolls on her please show me I want to see what you guys do with her