Yes, yes my first base [well that I didn't end up scrapping] on here. woo! and its male! I am aware he has no arms >_> I couldn't work out what to do with them soo.. yeah hes armless. [I don't like his eyes >_>]
Rules:
-Credit me![please >_>;]
-You can edit the eyes and give him arms change colours make him have pointy ears yada yada [minor stuff] without permission but anything else please ask first.
-No frakendolling.
-Link me when your done or post an image in this post, [whichever works best for you of course [:]
-Enjoy yourself and take your time!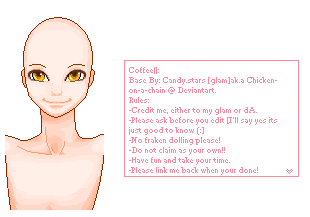 Edit:: I noticed something had been moved in his face so I fixed it. >_>; if it still looks off go to the photobucket image: Here