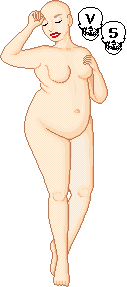 Big, as in plus size.
I hate the shading, so if you have an edit, send it to me!
---
Super star

Posts: 1352
Joined: Thu Jul 10, 2008 10:47 am
AKA: Bad company
Dolling Style: Pixel
Formerly: ConstantlyConscious
Location: Las Cruces, NM
Contact:
I faved this on DeviantArt an hour or so ago. I love her curves and the pose is nice as well. Different, which is always awesome.
---
Thank you! I based her on a pic of a really pretty plus size underwear model I found on google but eventually lost. @_@
---
Supporting Role

Posts: 199
Joined: Sat Sep 22, 2012 12:39 am
Dolling Style: Pixel
Avatar Base: me
Formerly: PaganGirl86
Location: Little Rock, AR
Contact:
YES! It's so hard to find good plus sized bases! I ended up having to make one
---
Super star

Posts: 1587
Joined: Fri Mar 06, 2009 11:43 am
Dolling Style: Pixel
Avatar Base: http://kar10sa.deviantart.com
Formerly: PocketfulOfLove
I love this *so* much. She is very pretty. Finally! Another plus-sized base! They are *so* hard to find.
- Lauren
Usernames I've Used: LaurenDouglasArt / LucyKitsch / BalanceWithIntention / TransmogrifiedLimn / AndSheCameAlive / LuneLyoness / OfTheFreckledKind / LaBellaMadre / PocketfulOfLove / TheSketchingVeg / LestYeBecome / EvolveTransform / LaurenDouglasCreates / LaurenDouglasCreative*

My DeviantArt
Avatar by me, base is a GLAM exclusive.

My laptop is finally working after not having worked for months, AND I'm pregnant, so sorry if you haven't seen / still may not see much of me for a while!
---
Celebrity

Posts: 369
Joined: Thu Jul 10, 2008 4:54 am
AKA: 3eyed coyotekittenpanda
Dolling Style: Pixel
Location: grrrmany
Contact:
yay for plus-sized bases! there aren't enough of them. >.< i really like her built and the kinda glamourous drama queen pose! =3
~~★
★~~
---
Thank you all so much! I never expected people to like this base so much!
---
Saving it can't wait to use it
---
Super star

Posts: 3625
Joined: Wed Apr 22, 2009 8:39 pm
AKA: This says something different when you're not looking
Dolling Style: Pixel
Avatar Base: https://www.deviantart.com/loulabeiie
Location: Rerouting. . .
Hooray for plus-size bases! \o/ Nice job.
---
Gaffer

Posts: 2255
Joined: Tue Sep 01, 2009 10:08 am
AKA: Dolling Faster Than A Speeding Bullet
Dolling Style: Pixel
Avatar Base: Zapatones
Location: Canada
i'm bumping this because i saw it again. it's so cute!!
Check out my shop!
||
OC Art/ Fashion Blog
||
AxxKat's Contests!
My Charm Bracelet!
---