I wanted to try out this selling my
soul
self thing.
The more freedom you give me, the longer it will take.
Here is my form.
I am offering:
a pixel shaded, female oc on either the Jmini base (see Meko's unreleased base below) or the Exclusive Fullbody by Duckie.
Auction Start Time
: Jan 26. 7:10 am pst
Auction End Time
: Jan 29th 10pm pst
I like to make:
girls! Cute girls, all shapes and sizes. Fun colors, on small bases. I love to edit bases.
I don't like to make:
large dolls, super curly hair, overly chubby people. Girls with too much make up. shaved heads are a little foreign to me, but I can try. guys, I can try, but I've never made a guy who wasn't fairly feminine.
I absolutely WON'T make:
a baseless doll. It would take me far too long to make one from scratch and I wouldn't want to make anyone wait that long. Crazy draping.
Examples of my work: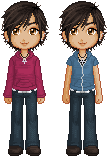 Bases from: Meko (unreleased, linked in sig) and Here.
And Go!