hehe get it, b/c my name is Sweet Raspberry Tea ok
lemme get down to business.
I am offering:
A pixel doll (or couple doll)
Auction Start Time
: August 29th, 2013
Auction End Time
: September 10th, 2013 12 AM Pacific Time (ie, the end of September 9th California time).
I like to make:
Preferably more muted colors, casual wear and darker colors. I love shading black. I also like dolling males, and couples
And nsfw is totally cool by me so don't even worry 'bout it ;D Also if you provide the palettes ilu ok
I don't like to make:
Anything mechaish or furry b/c I just can't draw it! Even Anthro is pushing it b/c ugh fur. :'c
I absolutely WON'T make:
Nothing really. You pay, you'll get what you want, even if it takes awhile!
Examples of my work:
[with base credit]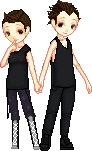 Bases:
Zipple
,
Ichitoko
,
Yzah
,
Sheesha
I have like one doll I need to finish but I can do it so yeah min bid increase thingy is 5, sound ok? :>