I have too many diamonds. And due to a serious lack of references (my bad) I'm looking to only have dolls of me done. Or my dolling alter ego, whichever you prefer.
About me:
I have an attraction to green, gold, and all things ridiculous. I like dragons, mario, mermaids, uh.... I like a lot of stuff.
Eyes:
Brown
Hair:
Brown
Self portraits:


Bases: Glam,
Duckie
,
Kawaii-Hannah
,
Zapatones
By Others: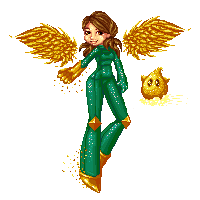 Green, gold, and phoenix wings are common themes.
You don't need to apply but if you want ideas you're welcome to talk it out.