OneSmartChicken wrote:We need a thread for sharing gifs, really. I don't even know.
I've come across gifs that remind me of various glammers, though I've never thought to share them really. xD I do have a friend that I call Nanny Goat, and I show her every single goat thing I come across. I remember seeing this super cuddly thing a while back and I was like "I should show that to Dead!" and then it disappeared into the abyss of my mind. Pft.
Chicken had this brilliant idea, and I completely agree. After searching I couldn't find if someone actually did it, so here we go. Share .gifs, like a mini-Tumblr XD
Just try to be appropriate guys, please. I don't wanna make Shix's mod job harder by making her lock this for inappropriate content/
This reminds me of Chicken
(I use it all the time)
And this is my gif that I use in reference to myself pretty much constantly |: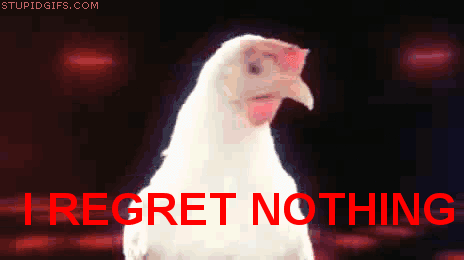 Despite it being a chicken xD; cause chickens are Chicken's thing even though I love them.
THERE IS A LOT OF CHICKEN ALL UP IN THIS POST