You may already know this, but I doll monochrome a lot. Like a lot, a lot. So, it should come as no surprise that I'd hold a monochrome contest!
So, what's monochrome? Here's a chart that explains it: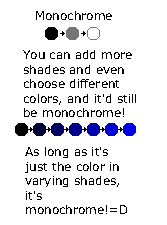 Subject doesn't really matter, but I personally would suggest theme it around the color you choose. Like, if you choose black do something dark, mysterious, etc. But it's totally up to you! =D
Also, don't worry if you pixel or tool, because it doesn't really matter.
Same general rules apply!
Example:

Base.
Deadline is March 15