[align=center]This month's winner is
littleorc!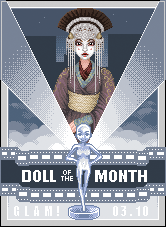 [/align]
What made you want to doll one of Padme's outfits?
My older sister was doing a research project on starwars costumes, I was looking trough them with her and realized how much fun it would be to doll her outfits
Do you ever think you'll finish them all?
I honestly don't know.. i'm working on sevral of them right now
Those patterns and textures look like they took some time, how long did this doll take you?
a day or two? i have trouble keeping track of time XD
Which part of this doll was the hardest for you? Did it turn out how you expected?
shading that purple velvet was god aweful. but i think it's one of my favorite parts of her
Looking back on it, is there anything you want to change?
I would make her headdress more metalic, and do some more AA