This month's winner is
Ephèbe
!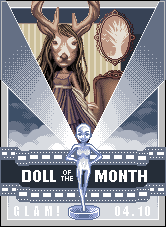 What inspired you to do this doll? Not many people would think of this for a base edit contest.
Well, I absolutely don't know. I never think of anything special when I start dolling, ideas just come by theirselves as I am dolling. Nae - the basemaker - just asked me to enter the contest, I said 'yeah sure, why not' and started dolling on this base because I loved it. Then as I said, ideas came by theirselves XD
I don't remember what inspired me when I decided to make her head a deer head.
I can't imagine that you do deer heads on all your dolls, was this doll unusual for you?
Yeah, really unusual. Moreover I don't often make realistic pixels so it was quite hard and different from other dolls I use to make. But that was fun XD
What was your favorite part to do?
The deer head, definitely. I also liked doing the chair.
Everything is so beautifully done, did you have this doll planned out before you started, or did you just wing it? How did you start it?
It wasn't planned at all XD I started the doll with some edits of the face - which no one would ever see because of this deer head XD Because I had absolutely no idea of what I could do with this base, I made the dress, then I had the idea of the deer head so I made her head, then the hair and I finished with the background.
If you could go back and change something, what would it be?
The folds on the dress, the overall lighting, I would also have added some details on the chair - but I was too lazy - and added some stuff on the background which seems a bit empty. But I didn't know what - and I still have no idea of what to add xp