[align=center]This month's winner is
WassupKiba
!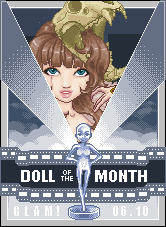 [/align]
What made you decide to do this doll? Was she designed from a long time ago, or did you make it up on the fly?
She was orginally supposed to be a gift to Escorpio, but it kinda got out of hand >.> so only about half was designed. I knew i wanted the corset and ribbons along with slightly wavy brown hair...but the skull and frills? Oh yea, totally made up on the spot
I noticed you did different fabrics in this doll. Do you usually define the fabrics when you're dolling?
I try to show different fabric types with shading, not really with the outline like I did with this doll. It was a learning experiance >.>
How long did you spend on the skull
?
Maybe about 20 minutes just trying how to shade the dang thing - I wish i spent alot more time adding details.
Which part gave you the most trouble overall?
Most people would think the frills, but they were the easiest part. The most trouble i think would be the face edits (which i didnt even do that well on). Ive always had trouble with editing bases.
If you did it all again, what would you change?
Oh geez, I could rip apart this doll.
But i guess the one thing that bugs me the most would be the fact that I never actually finished the doll - There are parts of this doll that were forgotten that i had missed when doing the final one-over.
example? take a peek at the portate's 'belt' gem. The metal casing around it is unshaded
Thank you so much for the award, and thanks to the people who actually thought I deserved it! I will work harder on future dolls so I wont disappoint you!