[align=center]This month's winner is
Raine!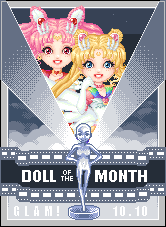 [/align]
Are you a big sailor moon fan?
Sure am! I haven't managed to see all the canon, what with the manga being out of print and the UK only receiving two of the four dubbed seasons, but still.
I first discovered it by chance after seeing a picture of Sailor Moon in a Pokemon magazine that I brought back from a holiday to America 10 years ago. I didn't know what it was, so I hopped onto the internet to have a look and that was that!
I was instantly hooked by the idea of girls being the heroes, magical powers, sparkling transformations and the theme of elements and planets. The idea of a love story written in destiny... That really appealed to me and it still does.
Do you do a lot of fanart dolls? Or more original dolls?
That kind of depends how I feel! I mostly make fanart dolls because I tend to get inspired to draw a character I like more than wanting to draw one of my own. I do make original dolls too, though.
I don't really make many casual/historical/those kinds of dolls just because I never really get inspired to do it. I like to make dolls of characters, mostly, because I guess I prefer it and find it easier if I know their story.
What made you decide to pixel moon kingdom?
I wanted something that was relevant to both Sailor Moon and ChibiMoon. It's where Sailor Moon's ancestors lived in the Silver Millenium or it could be seen as Crystal Tokyo were ChibiMoon came from.
After I saw a screencap of it from one of Sailor Moon's attack sequences, I knew it was what I wanted to make. This and I wanted to make a starry sky with a bright moon, because I felt it sums up the kind of night-time feeling that the series gives.
If you look carefully, there are eight big stars- one for each of the other Sailor Senshi, too. I wanted to put in a little easter egg like that, too
What's your favorite part of this piece?
Probably Sailor Moon's hair. Doing hair isn't my favourite part of dolling, but the more I worked on it, the happier I was with it. I cheated a little and copy-pasted half of it over so I only had to draw half, but I added and changed bits so it wasn't obvious.
It took two attempts to find a way of doing it that I liked. I tried Mariii's hair tutorial first, but I just couldn't make it work for me. I'd like to think it's a little bit like how it looks in the manga because I was aiming for that kind of wispy prettiness with the whole piece.
Anything you wish you could redo?
For ChibiMoon, I edited the base and made her shorter than Sailor Moon. It was really hard to do, because she kept looking disproportionate!
In the end, she didn't end up looking as short or as young as I would've wanted. She's still a bit curvy and a little tall and I kind of wanted her to be more child-like (though it is really hard to tell how old she is, so I guess it's okay!)
I'd redo it if I could, but I'd probably end up drawing an entirely new body! I didn't want to at the time, since it was for the Sailor Moon Collab and I though I should just keep with the chosen base.