[align=center]This month's winner is
Grosha
!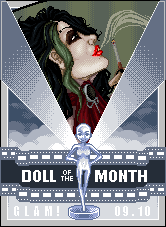 [/align]
What inspired you to do this piece?
Well, I set out to redo an old character of mine, but she sort of spawned into something else (these things always tend to have a mind of their own). The whole thing can really be blamed on the wonderful band, The 69 Eyes, and their song 'Christina Death'. Most of the aspects of the pixel and the character are pulled out of the lyrics of the song. I just left the song on repeat for about 5 hours while I was working. Needless to say, I pretty much made myself sick of it, haha.
Your style is very dark, any particular reason?
I could easily blame that on the music once more, but ah well.
I positively adore working with muted and dark colours. It's like challenging myself each time with a way to bring them all together and still have them look proper. Also, I'm a rather large fan of the underground subcultures - Be it gothic, steampunk, or some form of punk grunge. Should my pixels or art manage to be bright and cheery, that fact would somehow work its way in I believe.
What is the hardest thing for you to make?
Shoes.
Shoes and I are mortal enemies. They hate me and the feeling is mutual. If it wouldn't look quite so odd, all of my pixels would be footless anomalies that somehow still manage to stand despite not having feet.
Hands and I are still trying to work things out and salvage the marriage, though.
On this doll, what do you like best?
I remember the hair being a horrible pain in the bum, but looking at it now I'd have to say I love it. It's a tough one, though – I'm still rather proud of those tattoos and gloves.
But we'll split the difference and pick the cigarette smoke?
Given a chance to do it over again, what would you change?
Most certainly the entire background. I'd add more to it and possibly make it a little large. Just to add in a deep view of whom the character is.
Of course, that shoe is glaring back at me with a rather sarcastic smirk I'd love to wipe off its tiny, non-existent face.