[align=center]This month's winner is
batgirl
!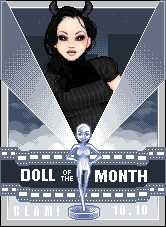 [/align]
I know you did this for the halloween contest, what made you choose a succubus?
[Phoenigette]. Lol. I didn't know what I should do so I asked [phoe] over MSN and you said succubus. I honestly didn't know much about succubi so I googled some images and went to wiki and learned and some some and I liked it so I went with it.
You have a very particular way of doing folds, could you walk us through that?
This was actually a trial run for a new technique (which I am hooked on). The folds were mainly straight so I used the straight line tool (in MSpaint) and went from there. Started out with the darkest shades, working my way up and making more and more shades of black as I went. I've been trying to make my dolls as smooth as possible and this one really worked out well.
Where do you draw inspiration from for your dolls?
I have a folder of inspirational outfits from various designers, favourite pictures I've seen on dA etc etc. If people don't have one I suggest they start one. You never know what can come of it! This one was from a photomanip found on dA.
On this doll, what is your favorite part?
The skirt for sure. It came out WAY better then I thought it would. It was a fun experiment. I also loved doing the face edit. She turned out wonderfully pretty.
What did you learn while making this?
I learned that ruffles are ridiculous and along with pinstripes you need to have your patient pants on or else you are just going to get really angry and quit. Black hair is probably one of the worst things to do. It always looks fake and wig like. I learned to never do that one again!