[align=center]This month's winner is
radiuhoh
!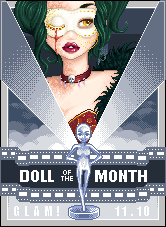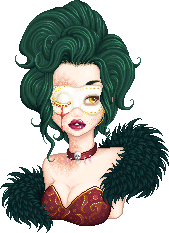 [/align]
What inspired you to do a burned lady?
The character design had been in my head a while, based around combining something elegant, elaborate and beautiful with something a little more grotesque.
Do you prefer doing portraits or fullbody dolls more?
I like portraits cause you can really focus on the face and bring out a personality and individuality in a way that's harder to do when you're working on something with a much smaller face area. I enjoy drawing faces a lot. Portraits can get a little boring when half the doll is hair though and there's often not much room to show clothing. I guess I like both pretty equally! It depends on what I want to focus on. Portraits are certainly the
easier
for me.
Which part of this doll was the most difficult for you?
The masses and masses of hair. Not difficult in a technical sense but in an "oh god, when does it end" way. The scarring is something I hadn't really done before, so that was a lot of work. I like a challenge though!
I know that she was done a base race doll. Do you find base races more inspiring or about the same as regular dolling?
About the same, I guess. The base race is forcing me to use bases I might not otherwise use, which is challenging. The base has to inspire something rather than the usual way of me thinking of something and then finding a base to fit or just ploughing in and making one myself. I am finding some of them a little difficult! Some suggest an idea more easily than others.
What, if anything, would you change?
That thing around her shoulders! I was never entirely sure whether it was going to be feathers or fur or what and that shows in how it's shaded. I think it started as fur. People say "oh nice feathers" though so who knows?
I'd re-shade it, or possibly replace it entirely. It was a bit of an afterthought cause her shoulders looked so bare anyway!