This month's winner is
Rhapsody-Girly
!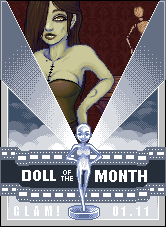 What inspired you to make this doll? Are zombies a common theme? Why the artist doll?
It was purely for my website design, at the time of dolling it I was completely in love with this character, still am to! I think more fantasy races then zombies for me, but I do adore zombies. Originally the bookshelf was going to be longer, with things on it that linked to specific spots of my website, like the artist doll linking to bases, books linking to writing and other stuff, but it was taking to much time so I gave up on it.
It looks like you spent a lot of work on her, how long did she take approximately?
umm... like over a week, I can't remember exactly now, but a long freaking time, but having fun the entire time.
Of everything, which part is your favorite?
I can't pick between the Corset, Boots and Hair, I love those 3 the most though, they turned out so much better than I was expecting.
When you doll, do you usually find a base and then get inspiration for the doll? Or do you get inspiration and then hunt down bases?
it's a mix, sometimes base picking comes first, sometimes idea's, though usually how the doll finishes relies heavily on the base, for example if I had decided to go with a standing up base instead, there would have been a huge different in the prop's and she probably would be in a skirt.
Is there anything you wish you'd known when you started?
that there was such a huge dolling community! my very first dolls where when I was 8 or 9 though so it wouldn't have mattered much forum wise, but the without the community I wouldn't be anywhere near as good as I am now!