[align=center]This month's winner is
Chama
!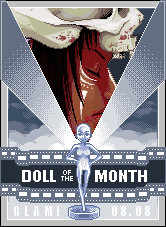 Tell us, what inspired you to make this doll?
I originally decided that I wanted to use one of my own bases, which I do rarely. I chose my Syo base, and stared at it for a long time and decided to just make a huge-ass skull on top of his head. Which ended up evolving into a Vodou theme, since I love that as well.
That skull would make my eyeballs bleed. How long did it take you to finish this?
Actually, the skull only took about two hours max. If it had been from the front, probably a lot longer, but skulls in profile view are really easy for me. I also got some great tips from people on the forum to make it look more realistic and detailed~
His markings are really fantastic, do you have any tattoos of your own?
I wish I had -his- tattoos! I have three myself. A small wing on my back (soon to be covered by a larger, black, more awesome wing along with its twin), a tattoo on my ankle that matches with a friend, and a line from a song that goes down the entirety of the outside of my right arm~
The base is your own, but why did you choose this instead of another? Was the base made especially so you could make this piece?
There's no special reason I chose this one... just that it was newer and I liked it better than a lot of my others. I made it to practise a profile view of a face. Pixelling is so time-consuming that it tends to stick the process in my mind better than sketching ever could.
Is there anything you wish you'd done differently about this piece, or are you completely happy with the finished product?
I wish I could have figured out how to add more details in a few places. Overall I'm pretty happy with it, although I don't feel like gushing over it much because I know somewhere deep down I could have done a lot better... ahaha... lazy. *is shot*
Thank you guys so so much! ; w; I'm glad you liked this~
[/align]