[align=center]This month's winner is
SHANN0N
!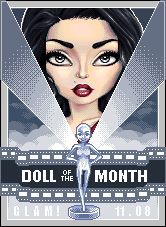 What was your inspiration for this doll?
Definitely the base! I saw Gigi's base and it was so glamourous looking I just had to use it!
Something that really stands out is the shading on the silk--it's so realistic! Can you tell us a bit about the process you take to create such stunning realism?
I looked at a TON of pictures to figure out how to do satin- pictures on how it would be affected by something pulling on it(the little clip thing) and just how it 'behaved' in general. I figured out that its really important to have a lot of contrast with satin, often having a shadow right next to the highlight, and I had to try and keep the dithering from spreading out in the small areas- often it seems like you start out with a little section of highlight or whatever and then you dither it and its twice the size it was originally! Other than those things though it was like any other fabric:D
Is there any one element or technique you used that you think really makes this piece special?
I think the satin makes this fairly unique; I honestly cant remember the last time I saw someone pixel satin!
About how long did you spend over all on this doll? Can you tell us a bit about how you begin a doll in general?
I probably spent more than 5 or 6 hours on this altogether.
As for when I start a doll, if I use a base, I always strip it down first so that there is just the outline and the solid color, though I often keep the eyes nouth and nose black if they're similar in shape and prorportion to what I want it to look like just because it's easier to edit than redraw. I always think that the face is one of the most important aspects of any doll, so it's always what I do next- I feel like if the face is bad it isn't worth continuing. So the face gets completely finished and if I like it I move on to the outfit or hair, depending on what I have planned.
Looking back now, is there anything you wish you had done differently or want to change?
I wish I spent more time on the hair, especially the right side- the shading there is sort of bad in comparison to the rest.[/align]