[align=center]This month's winner is
Lina-san
!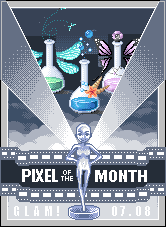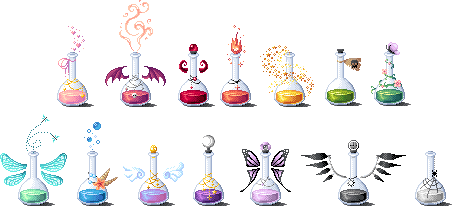 Tell us, what inspired you to make these little trinkets?
I've always liked pixel bottles made by other artists. In the beginning of July I lost inspiration for dolls, but wanted to pixel out something and an idea just popped in my mind "Hey, you like pixel bottles, why not pixel them?"
All of these are great, but which one is your favorite?
The dragon breath one
I really like its wings and the smoke.
How did you start this project? Did you start out with the wings, the bottles.. how did the process go?
I always start my pixelwork with palette making and this time was no exception. Then I made the outlines of bottles (there are actually three different ones in two sizes but I finished only one type) and shading. Detailing was the last part, it's just my habit to add all the details in the end.
Each pixelled vial seems to have a theme, what inspired you for each of them?
Originally they're supposed to be just rainbow-coloured potions without any theme but I thought it would be really boring. Each theme comes from liquid's colour: pink is associated with romantic love, toxic green with poison, dark red with someting dark and demonic and so on.
There are so many details and intricate design-work on these, but are there any pieces you wish you'd changed now?
I really don't like how the white potion turned out. It's the last one in the series and I was completely out of ideas while making it. But I still don't know what theme I should have chosen for it ^^;
[/align]