[align=center]This month's winner is
Tiger!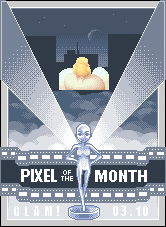 OMG I WANT TO THANK THE ACADEMY*
*GLAM!
I know you made this as a request for Dae, did she ask for a chick or was that your decision? What made you want to make it animated?
"Either a puppy of some sort, or an animated bird? If that is not working, you could make me an easter based icon
"-Dae
I can't draw dogs to save my life.
Do you animate a lot of your pixels?
Actually, this is the only one (with the exception of some very bad emotes)
How many colors are in this icon? Do you think more colors are better, or do you like a strict palette?
18... I think. Neither. I don't care about the amount of colours in the slightest.
How did you start this? Did you sketch out the chick before pixeling?
I started by drawing a yellow chickshaped blob. This blob was followed by a white eggshaped blob. Those blobs where then bombarded with detail. *save* Then I redrew the head and moved some pixels around for each frame. *save* ... *save* *save* *save*
Looking back on it, is there anything you wished you had done differently?
I wish I had known what I was doing.[/align]