[align=center]This month's winner is
aerieyena
!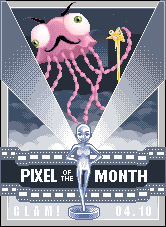 [/align]
Not that I don't like nachos, but what on earth made you decide to pixel a jellyfish eating nachos?
It was a collab with Shannon and Kitsuragi. Shannon had just joined PixelJoint and wanted to pixel something for her account; she made an octopus eating a hamburger. Kit was making a squid eating a corndog and she dragged me into it.
Pixeling isn't your normal artform, did you find it more difficult?
No. It's about as challenging as doing a baseless doll, which is something I'm comfortable with. The thing that was difficult was figuring out how to shade the tentacles, I probably spent more time on them than anything else.
Did you use a limited palatte or just however many colors you wanted?
At first I had a very very VERY big palette, but the more I worked on it the more I reduced it.
What's your favorite part?
The googly eyes! When I originally sketched him he had a very cutesy face, but Shannon and Kit demanded I give him googly eyes and evil features. He wouldn't have nearly as much charm if not for them~
If you could change anything, what would it be?
The nacho box. I made it green because I wanted to limit the palette (I had already used the green for his eyes), but I don't like it that way.