[align=center]This month's winner is
Marleaux
!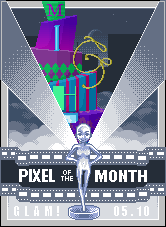 [/align]
What made you decide to make this kind of cake?
Almighty had a request thread and I started to do Bobeep as a doll but it failed and I failed bad so I made a cake instead.
Of all the tiers, which tier was the hardest?
Totally the I! I just couldn't figure out what to do with it. I'm not even super happy with the gradient.
How long did the cake take you?
Couple days, about 10 hours of work I believe but I'm always chatting so I'm sure it could've been done in a shorter amount of time if I closed dollchat.
What you started, what part did you do first? did you sketch it out, or go tier by tier?
I actually googled a bunch of cakes, the whimsical topsy turvy cakes I love on the cake shows! Then I got like the bottom 3 tiers and I winged the rest though not to the best success...But yeah I sketched it out and winged everything including the colors.
If you did it differently, what would you do?
Plan things out better