[align=center]This month's winner is
OneSmartChicken!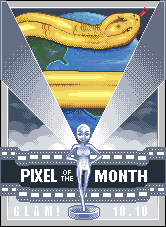 [/align]
What inspired you to pixel this? Is there any symbolic meaning?
Well I guess it all started with a commission from a friend to do lineart for her own commission board. It was an Earth Day project and she wanted reptiles and amphibians. While working on a chameleon, it occurred to me that Oroborous, the Norse "World Snake", would be pretty fitting so I started on it as generally a side project. Unfortunately the project fell through when my internet died so I decided to finish it just for fun.
How long did the total pixel take you?
About a month, not counting the week or so where I essentially avoided it. I didn't have a tablet at the time so looking at it made me cringe.
What made you decide to make your pixel icon a chicken standing on the world?
Well I hand-make cards for my friends and family for holidays, birthdays, etc, and I always liked to put a little icon on the back to make it feel "official", with a logo and everything. As a kid this icon was always changing until about three years ago I doodled a chicken on top of the world. It was entirely spur of the moment and for some reason I wrote "one smart chicken" with him. I didn't expect him to stay in my head after that but, three years later, he's become my favorite little weird thing ever.
What part did you work the hardest on?
The snake's scales I think, and the lineart of the continents. I had google images searching pictures of the earth almost constantly and I kept nudging it around to get it "just right". The scales were only had because I'd never tried pixeling them before and, once I got them right, they were almost disappointingly easy.
What part do you think needs improvement?
I'd say just about all of it. I still love the snake's shading, but the lineart could definitely stand for more than a little editing, and the shading on the world was lazy. At the time I was happy with it, but now I feel like I just might remake it. Someday. I'm still much to happy with it to touch it right now.