[align=center]This month's winner is
~Sam
!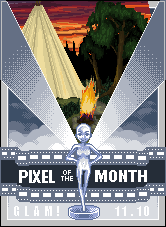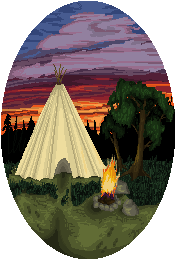 [/align]
What inspired you to do this scene for an Actor's Challenge?
I was annoyed with all of the generic "Pocahontas" dolls that were being entered and I wanted to do something unique and different (for me and the challenge.) I figured that it would be fun to challenge myself, so I decided to do a pixel scene.
Do you pixel scenes often?
No, this was actually my first fully done pixel scene. I usually don't have the patience to go through with whole pixel projects. That, or it ends up looking bad halfway through so I just scrap it. I usually just stick with dolls.
Did you use a reference or just make it up?
I came up with the idea on my own but used separate picture references for the hut and sunset.
Which part are you most proud of?
I absolutely love the sunset! It came out a lot better than I'd planned. It was so simple to make and the outcome is awesome.
What would you change if you did it again?
I'd probably try to figure out how to do the dirt so that it doesn't look so green and odd and add more detail (maybe a painting of some sort) to the side of the hut.