This month's winner is
Valo
!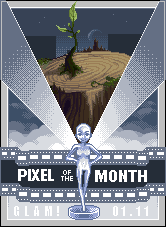 You mentioned this was inspired by Phocahontas. What exactly inspired you?
My chorus is singing Colors of The Wind, a song from the movie. It's a beautiful song. I always think of trees and life and beauty when I watch that movie, and singing the song made me want to pixel something earthy. :]
The style of this pixel is a little different for you, did you do that on purpose or did it just happen that way?
Uhm, I guess it just happened. I'm more into dolls of attractive women with tattoos, piercings and wild hair, but that doesn't mean I'm not capable of other styles. ;]
Was the tree bark as hard as it looks?
Haha, no. I found it quite simple. It was just time consuming, that's all. The rings on the inside were harder than the bark.
Do you have any plans for continuing this as a theme or was this a one time pixel?
Just a one time deal.
Is there anything you would change?
The mushrooms, maybe? I still don't really know if I like them or not. >>;