[align=center]This month's winner is
Nikimuk
!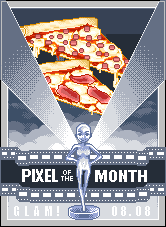 So, why pizza?
Being Italian, I'm an huge fan of pizzas. When I opened my lovely adobe photoshop I was feeling hungry and so I thought: "Hey, why don't you pixel some food, Niki?"
And the pizzas come out XD!
What sort of pizza do you enjoy the best? Are you one of those weirdos that actually likes anchovies?
Anchovies?
They're terrible. I support simple and traditional pizzas. I enjoy the Margherita one the best : tomato, mozzarella cheese and basil. That's great!
I also like ham, würstel, mushrooms and cheese.
That cheese looks good enough to nom, was everything hard to shade, especially considering the drippiness?
Well, it wasn't hard that much: I was looking at references of pizzas and various fluids (water, milk, cream...), so I've easily found out how to make the cheese look melted. The trick is to place the darkest shadows near to the highlights.
But the small size of my pizzas helped me a lot; if they were bigger, I wouldn't have done a nice job, I think.
Do you plan on pixelling more pizzas or are these the last of the set?
Since they were great fun, I'm planning on making more of them!Unfortunately, school has started again and I'll be quite busy. I'm also working on other dolls and projects, so I don't know when I'll actually have the time to "cook" new pizzas.
Do you wish you'd changed anything about them?
The ham and the würstels look floating. I should have done more shadows around them and perhaps also some cheese over them. I hope to fix it as soon as possible! >_<
[/align]