[align=center]This month's winner is
Heartsdesire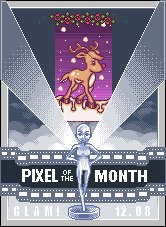 Can you tell us what inspired you to choose the elements of the pixel you added? Like the purple sky, or the hollies above Rudolph's head?
I was inspired by a show about a baby reindeer on the disney channel that the kids were watching with this pixel piece.
How did you start this pixel? Did you have any sort of sketch prepared, or did you pixel it straight off?
I started off with the reindeer and just kept going it wasnt somthing I really thought of but it just worked together.... The purple sky was because blue just didnt seem to work with it so I tried different shades and the purple really made him stand out.... the holly was a after thought once I had finished it just needed somthing to make it look christmas like and the holly came to be.
How do you create your palettes? Do any of them ramp together, like perhaps the snow around the reindeer's feet and the white fur, or are they all different colors?
I usually dont worry about palettes I just try and work with colors that match .... theres allot of playing around with colors if it works I stick with it. Not sure how many colors I used in the piece !
I made the snow that creamy color to keep the color count down it appears in the reindeer and thought to keep less colors id give it a go and it worked really well. So there all the same colors.
When pixelling, do you believe that fewer colors is better, or do you think that color count isn't important as long as the pixel looks good?
I believe with pixelling it depends on what your working on and style at how many colors are used.
What part of this pixel did you have the most fun working on?
I loved drawing the reindeer its the first real animal I had done hes so cute ! and the holly was that added thing that just brings it together.[/align]