[align=center]This month's winner is
Hannahelizabeth
!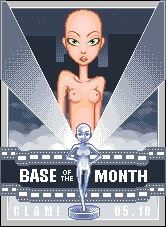 [/align]
What made you decide to do such a tall and skinny base?
Well, I've always been interested in fashion models, and based her anatomy on how they are drawn for designs.
I just love long and skinny, even though as a person, I'm pretty much the complete opposite!
She's very stylistic, is this a usual style for you, or is this more unique?
I do a lot of my work as this style, personally as I find it so much more adventurous to draw using disproportionate sizing, ect.
Do you make bases very often or think you will in the future?
Well this is my first base, and I did enjoy making it, and I hopefully will be making more in the future.
What did you struggle with the most in making this base?
Arms. However I try, I can not make the perfect arms/hands. But I guess practise makes perfect!
If you could do something differently about her what would you do?
I'd probably change her pose a little bit. Usually whenever I go back and look at something I've done, I find something out of place, so I'll probably go back and check it over, and add a few more poses and clean her up slightly!
Thanks again!