[align=center]This month's winner is
Gauche
!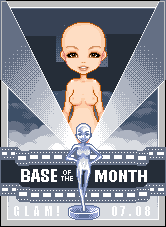 Tell us, what inspired you to make this base set?
I don't think it was inspiration really; it was more like desperation that I could not find the right base to use at that point in time! Rather than keep looking, why not make your own?
I wanted a base with nice proportions whilst still looking a little cartoon-y and cute; I was also afraid of working on bases that are too large or too small, so I needed something to fit the size range I was looking for. As much as dynamic poses are fun and there are tons of great bases out there with amazing poses... I wanted more generic poses that are very basic so I can doll different clothes or characters looking very standard and average. I like dynamic bases, but I'm not good at working with them, so I wanted to make poses that I could work with easily. Plus such poses are also easier on newer dollars like us who need to practice more on basic poses before really taking the plunge into more dynamic bases.
I got those pose ideas from pictures in my bcbg catalogs – those kinds they send to you endlessly every single month! I found the poses in there very standard and the photos helped me in the process of making sure the proportions were right.
Basically that was my idea behind why I made this set, not very exciting eh?
What features are your favorite?
Is it weird of me to love the boobs?! –lol- I do think the boobies are my favorite part, they look natural to me; but yet believable when you put clothes on them.
The faces are very cute, who or what inspired them?
I love editing faces in bases! My initial inspirations were my two current favorite models, Gemma Ward and Agyness Deyn. To me, they looked like real life dolls and I wanted the base to have those wide set eyes like Gemma but pouty lips like the both of them.
The face ended up looking more cartoon like than I imagined them to be but they are still very versatile for editing – which is great! I purposely left the color of the face very muted so people had to edit them to really make them stand out better!
This must've taken a lot of patience and repetition to make, but how -long- do you think you actually spent on them?
I must have spent like a week working on them! I was on my bed for what seemed like forever! I kept trying to tweak the proportions, getting the different poses right… I had way more poses that what I've released, but I threw away all the ones that I didn't think were good enough.
I had tons of CC and help from my real life friends who have come from different art backgrounds, hence they made sure my proportions were pretty decent before I released it to the public; so big thanks to them! The time was really well spent since this base has received so much love from people!
There are so many details and intricate design-work on this base set, but are there any pieces you wish you'd changed now?
Definitely! I don't think there's any piece for any artist that they wouldn't want to go back and make better. You constantly improve no matter what you do, so you will spot flaws all the time. Hence I love CCs on this base to highlight the flaws I might have missed.
Currently, I wish I hadn't rushed at the ¾ view, cause the toes are same on both legs which is obviously a big mistake! Plus I wish I could go back and change the skin tone; I have a ton of skin tone in the making that looks way better than the one I released!
[/align]