[align=center]This month's winner is
katberrie
!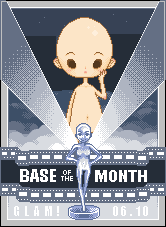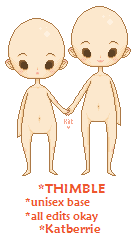 [/align]
You mentioned that this was your first released base. What made you decide to finally make one?
Well, I've tried to make bases before, but they never really turned out well. I made this one because I was looking for a base that I could doll my characters on (who are almost all males >o> ) but could also be used to doll girls. So I just decided to make one myself!
Is this base like bases you usually use, or do you doll on bases different than the ones you make?
It's different from most of the bases I use, since a lot of the bases I use are realistic. I like realistic bases and all, but sometimes I just want something squishy and cute -u-
He's so cute! How did you start basing? Did you sketch first?
I started by opening paint and saying "i'm going to make a base" lol. I didn't sketch first, but Thimble is heavily based off of my drawing style, so I did turn to my sketch book quite a few times. If I try basing again, I might sketch it out first, though.
Which part are you most proud of?
Oh man, probably the fact that I finished,
plus
came up with different poses. My favourite part is the face though. That's the part I worked on longest xD
Overall, though, I am proud of the whole thing. It's like my baby ;u;
If you could change one thing, what would it be?
I would probably play around with the shading and maybe try and make a sitting pose.
Thank you so much ;u;