[align=center]This month's winner is
Umrae
!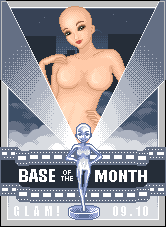 [/align]
What made you decide to do a pageant style base?
I always see people complaining that they have difficulty to find matching portrait and full body bases for pageants, so I thought "What if there were available sets sharing the same features, proportions and palettes?"
Have you used her in a pageant yet?
No, actually I've never entered a pageant. I wasn't even familiar with that format of doll pageants until this year. I might take a chance next year.
I am working on the matching avatar and full body version of my Gaia Online avatar using it, though.
Do you foresee any more poses
?
Probably, but not very soon. College and work have been leaving very little free time, and I have some unfinished dolls and bases to finish first. But I usually revise my bases a few months after they were created, add a few more options, fix things, etc.
I also intend to do other pageant sets, with different features and body types (like a chubbier base and a very skinny one).
What part of this base gave you the most trouble?
It was the first time I made a dithered base, ant that was a lot of trouble for me, much more than matching the features. Also I made a few anatomy mistakes on the first version, which were fixed later.
What would you do differently?
I'd have made the palette a bit more contrasting (that part is easy, since I can just replace the colors) since I didn't like the final result, and I also think I should have drawn the toes. I might draw them in the next version.