[align=center]This month's winner is
Radiuhoh
!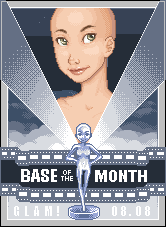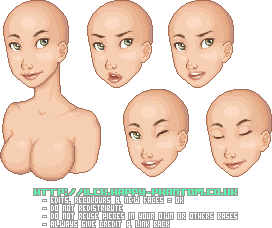 Tell us, what inspired you to make this base set?
I hadn't made a base in years! I wanted to get back into it and make sure I still could. I had a vague idea of a doll I wanted to make, inspired by a couple of artists (Katsuya Terada, Range Murata and Shirow Masamune), but couldn't find a base I liked for it so I thought I'd use that as the test for my somewhat stagnant base skills.
The long face is very stylistic and unique, What features are your favorite about her?
I adore her nose. I used to have this terrible trouble drawing noses, to the point where I just didn't draw them at all. I've only recently found a way to draw noses that I really like and is simple, so such a lovely little nose on this base is a triumph.
I'm also rather fond of her boobs, but hell, who wouldn't be?
Did you sketch this base first or was she freehand? How long do you think it took to make in total?
There were two attempts at this base. The first one was freehand pixelling, and didn't turn out quite as well as I'd hoped. The face was kind of lopsided, and I was dissatisfied enough with it all that I decided to start over rather than tweak it.
The final version started life as a doodle in my sketchbook, which got scanned and traced. I've no idea how long she took in the end. I worked on the shading on and off between doing the cyber-girl on it, which helped me figure out what worked and what looked wrong on the base itself. I was working on them both over a couple of days.
Why did you make other expressions? Are you just a silly girl?
I like giving a few more options to people and when you're working with a portrait base you can't really do that with extra poses, so expressions are the way to go. I like the personality that a few extra expressions can give a base. I get a little bored of seeing so many bases with that disinterested model expression.
Which is not to say I'm not just a silly girl too Razz I seem to like making things harder for myself by thinking up all these other options I can add to a base.
You've been a figurehead in the dolling community for quite awhile. Do you plan on reopening ILCK full-speed ahead and not just bases? Like.. right NOW
?
Plans and I have a long and turgid history. Our relationship is one of love and hate. We have moments of blissful co-existence, and then there's the annoyance, the shouting at eachother and one of us sleeping on the sofa. So yes, there's a plan to open it back up, there's even a few pages finished somewhere here, but plans and I are fighting and plans is talking about breaking things off, so when the ultra-shiny-new ILCK will eventually show it's face is anybody's guess.
[/align]