This month's winner is
mariiii
!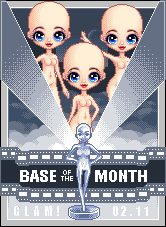 What inspired you to make this base? Is this what usually inspires you to make bases?
Usually I draw sketches on paper when I'm bored or have much free time. If I remember right, I started this base not on paper but immediately with my mouse. My inspiration for this....maybe boredom
?
Is there any difference in the bases you use for your dolls and the bases you release?
A little bit, yes. I tend to not release bases which inspire me like muses. These bases are usually pullip-like, or have a very special/rare look which I want to use only for special dolls.
What is your favorite part of the base making process?
Drawing the eyes
especially on bigger bases (like my newer 'Bunny' base) it's difficult, but much fun. And of course, parts which don't take so much time XD.
Ever tried a male base? Why/why not?
Not yet. But I already drew males on paper, and I currently have a project for a wedding where I have to create paperdolls. As soon as I think the anatomy is fine, I'll try to create male bases as well
Anything you wish had turned out differently in this base?
I think the hips are a bit wide on the 3/4 pose. And some of the poses are rushed...
Thanks for botm again