Premise
We want to see your best semi-formal attire! The theme of the contest is to make a female, male or couple dressed to go to the Homecoming Dance - an American High School tradition. Semi-formal is the important part of this!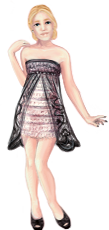 Participating
To participate all you have to do is make a doll, dressed semi-formally. You may enter up to one male and one female separately
or
one couple. Couples should be interacting in some way though. Be mindful that this is a
High School/Secondary School
tradition, and dresses, etc. should be appropriate for a high schooler. Dolls don't have to look 16, but the dresses should be appropriate for them.
Basic rules apply: No frankendolling, work must be original for this contest, etc.
To enter
, go
here
Winning
Winners will be determined by a public poll to keep with the tradition of Homecoming King & Queen voting. Depending on the number of entries, there will be one, two, or three separate categories. (It depends on if we get enough entries in each category to warrant voting on them).
Prizes include a graphic award, a custom doll*, and diamonds.
*Artists for the custom dolls will be announced soon.
Important Dates
Entries Due By:
October 11, 2014
Public Vote Begins:
October 12, 2014*
Public Vote Ends:
October 25, 2014*
Winners Announced:
November 1, 2014*
* These dates are subject to change due to real-life, but should be approximately close.
Any Questions or Concerns, either comment here or PM Dragyn.