[align=center]This month's winner is
kiwi
!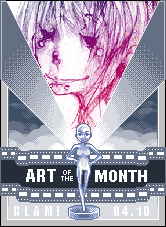 [/align]
How did you make this piece?
This piece was sketched using a a 0.5 mechanical pencil. The colours were added using Photoshop CS.
Was there anything in particular that inspired you?
I felt the need to illustrate a character of mine due to a brief bout of temporary insomnia. I suppose that may be classified as inspiration.
What other art forms do you do, if any?
I pixel and create oekakis occasionally, although my preference would be sketching.
Is all of your art work normally this stylized, or was this a special case?
As I do not have the talent required to create realistic pieces, the majority of my artwork is stylized in some form.
If you could change anything, what would it be?
I would like to edit the eyes, for they are unpleasantly asymmetrical.
Thank you very much for the award.