[align=center]This month's winner is
Jayjae!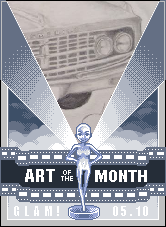 [/align]
Do you have a love for old cars like this?
I absolutely love old cars. To me, vintage cars are the epitome of class and glamor. Each and every car was so unique. I wish that modern cars would take after vintage cars! I'm hoping to one day own a 1953 Chevy Belair.
Is graphite a common medium for you, or was this a special occasion?
Graphite is my main medium. I find it's very flexible, and can creative very harsh and very soft looks. Though, I have explored several mediums, I would like to say that graphite is my master medium.
How did you start this? Did you use a picture reference?
I started the project by creating a grid on my picture, to ensure the proportions are correct. I was planning to draw this in one entire day, using the actual car as a model, however, this was drawn in the winter so we couldn't bring it outside, and the lightening in the garage was horrible! So I bought it some lamps to get some better lighting then took a picture, as used that as a reference.
Did any part of this give you hell? Anything you had to redo?
TIRES AND CHROME! The hub caps were a pain in the butt. I spent literally around an hour to two hours on both of them alone. I had to redo the tires and chrome several times, but i eventually got it right.
If you could redo the whole thing, what would you do differently?
I might have drawn it at a slightly more downwards angle of the car, to get some more details of the body, or gotten a better shot of the interior. One of the most beautiful parts of any vintage car is the interior.