This month's winner is
Shiilia
!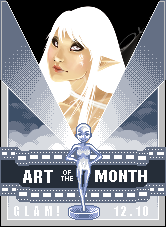 You mentioned that she was for your work, what do you do? What is she for?
I did it for my job because the company where I work, put one-day auction of drawings of their illustrators (pay with sms), so what better as a design staff that sell her personal character!!I i don't want to draw something that have nothing personal in it, and no desire to represent me lol so i draw "Musiame"
Is this a reoccuring character or a one time deal?
In reality, this character is a character I created from scratch. It is on an online game customization doll that I finally found a personality and create one history for her.
Musiame is an abbreviation for "Musique de l'Âme" this mean in english > Music of soul, because Musiame is a character who have one particulary history, his being was torn from his people and after some adventures she is lost with empty soul,in search of his lost love that is in fact quite the opposite of his people, it's all a trick, but something classic lol
How much of your art is planned before hand and how much is made up on the go? Do you sketch before you make something?
With hand i just make the initial sketch, because I can't draw directly on the tablet. i don't know make that lol
First I start by making one sketch on paper of my sketch book, just basic pencil sketch, contains the features of anatomy and basic details (facial features, eyes, kisser, clothes and hands)
After I scan, and put the sketch in opacity in photoshop.
I create flat areas of color to skin, clothing, etc. and I work the shadows, and to end i add small details like lighting effects and it's ok
What is your favorite part about her?
My favorite part are her eyes! I liked him make his eyes white with black makeup pronounced, infact I loved make her face and the light effect which was a first for me lol
But what I most like in this picture, not really on she, it's the mix of black / white that I wanted to do as its shades of clothing style in general.
Anything you'd like to change?
Indeed, i would like to make again her face, now I think she has eyes of alien XD
I will like detail more clothes too, but good anyway if it were up to me I'd end up drawing ever :pp
thanks again