[align=center]This month's winner is
Trinus
!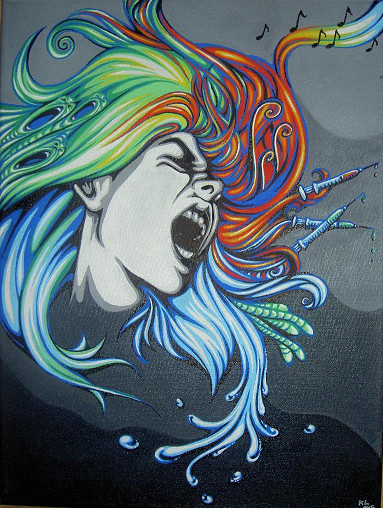 There is a lot of emotion in this piece, is there anything specific that inspired you to create this?
Well, as the title says, she is high on drugs. She is in pain. A lot of people are in pain because of drugs, that's the reason for the extreme expression.
About how long did you spend on this? Of all the pieces that make up this composition, on which particular area did you spend the most time?
I have no idea. I worked a little on it every day for some weeks i think. Well, the hair obiously took longest.
There is a lot of symbolism in this piece, like the screaming mouths and the needles. Can you tell us a bit about that? Is the symbolism personal to you, or something you've experienced?
I have friends who have felt this pain. So it is personal yes, though I haven't experienced it myself. The pain of being addicted is horrible, you are frustrated, you can't get out of it. You are so angry at yourself, but you can't do anything; it's very painfull.
Can you tell us a bit about the process you took to create this? How did you pick your colors? Did you start with the background and move to the foreground, or the other way around?
I painted the painfull face first, in grey. Then i wanted focus on some crazy hair. I just painted whatever i thought of when i thought "high". Screems, needles, music. Whatever. And because i wanted the focus on the hair, i made the background grey. This way the crazy colours in the hair pops out.
Even though this is a very stunning and emotional piece, is there anything you feel could be improved on, or something you wish you'd have done differently?
A person on DA informed me about the needles were placed wrong. And now it really bothers me! It's hard to explain how it's wrong, but it really bothers the eyes. The needles are pointing out from the picture, to nothing! Not like on the other side of the picture, where the hair points back into the picture.[/align]