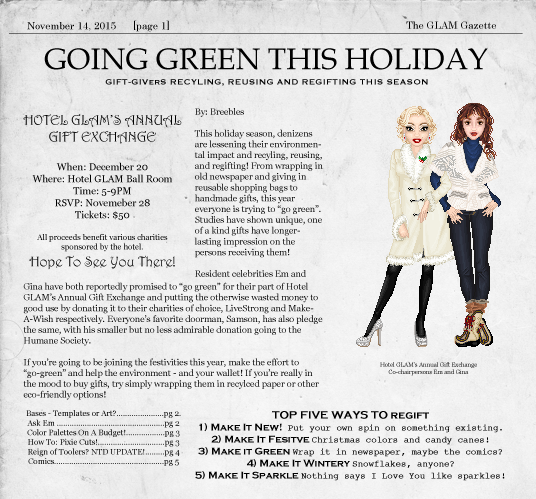 GIFT EXCHANGE 2015
WINTER REDOLL
This year, for our Annual Gift Exchange, we're doing a Redoll - with a twist of course.
The Twist: The redoll must reflect the season.*
*We know not everyone celebrates the holidays, but in the spirit of giving, we'd prefer that the gifts still reflect the idea of "giving". There are several ways around doing Christmas, such as using newsprint patterns or plain brown packaging and string. We're being pretty open about this, but we'd still like it to reflect the idea of exchanging a gift. Adding props such as a present is also an acceptable option.
Sign-Ups: Due by November 28.
Reply here with the below form:
Rules
1.
Must
have 3 significant changes
2.
Must
reflect the idea of giving.
3.
Must
be your original work.
4.
Must
not directly copy any piece of the original lineart.
5.
Must
be kept "underwraps" until the reveal.
Do
not
post your gifts to any other forums, the Dolls section, deviantArt, personal doll sites,
or any other method of sharing before the reveal.
Due Date: December 20
Reveal: Decemeber 25-31
*
*Tentative dates based on how many make-up gifts needed.
Make-Up Artisans
:
PM
batgirl
if interested. We will notify you after sign-ups.