(or should there be "
are
back in town"? the rules for "is or are" seem simple but i always get confused.)
anyway i thought i'd make a wip thread so i'd be motivated to actually finish the doll. i've been working on it since the day the event was announced and i'm still not finished so ... i probably need some motivation. cx
so here's the doll;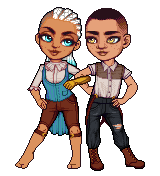 i've tried like five different outfits for eira, and this was the best one but i still don't quite like it. xc and lo's outfit i think needs to be a bit more ... 'steampunk-y'. hm.
base is of course by
duckie