So it feels a bit odd to be posting here after so long (since LAST jan!!) but I had a random urge to revisit this site and I was swamped with how much I honestly loved being a part of this community for as long as I was. I hope to pixel for often but I cant guarantee.
Here is my newest work (literally finished her 5 min ago) and Im rather surprised on how much I remember! I had to redownload MSPaint '98 haha
a pixel version of my Velvari
Link
with and without body paint. one of these days I need to actually design her battle outfit...
Base:
http://aerieyena.deviantart.com/art/KiSS-base-520735301
EDIT: instead of making a new post, I'll just be naughty and bump this one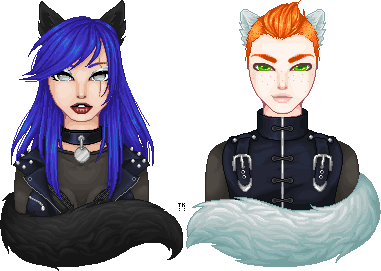 My favorite "couple" Kiba and Aiden. I say "couple" because kiba cant stand him and aiden cant stay monogamous to save his life.
Base:
http://themaunster.deviantart.com/art/r ... -493593111
I really missed this community