The Idea
The main idea of this collab is to create a doll that represents a cause that you support whether it be feeding children, conserving nature, or finding a cure for cancer.
Not Sure Which Cause To Choose?
A good list of causes can be found at this website
http://www.causes.com/causes
.
Participants
Momma2Boog -
Autism Speaks
Juchankqueen -
Support Gay Marriage
Lyca -
The Fight Against PTSD
VargasChild -
The Fight Against Breast Cancer
Caitlincaitiecait -
RAINN
glass_trees - Endometriosis Awareness
KRHB -
Support Transgender Youth
Tals -
Share Our Strength
H|F -
Animal Cruelty/Domestic Violence/Religious Tolerance
Polly Juice - Stop Racism
Base
EVA
by Jishin.
Completed Dolls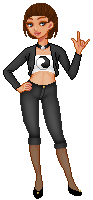 Endometriosis Awareness, Stop Racism
Note
: 30 participant limit. Causes not limited to 1 per person.