The Collab has been closed! If you do have a finished doll that you might not have had time to post, please note it to me and I can add to the final image! Thank you to everyone who participated!
GLAM! Summer Olympics Collab: Celebrities!
We've all got a star we're a little starstruck over! Whether it be musicians, actor/actresses, sports star or model! Call dibs!
Base will be Halli by Bri!
Celebrities/ Musicians:
Rihanna - AxxKat
Lady Gaga - AxxKat
Nicki Minaj - AxxKat
Clara Bow - Kelly Ann
Bela Lugosi - Kelly Ann
Lupita Nyong'o - Phoenigette
Carrie Fisher - Krahka
Daisy Ridley - AxxKat
Anne Hathaway - Phoenigette
Emma Stone - Phoenigette
Adam Driver - Blackfyre
Yolandi Visser - paperraine
Alicia Vikander - Alissa
Scarlett Johansson - weasel420
Steve Buscemi - weasel420
Finished Dolls: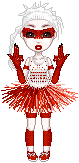 AxxKat // Phoenigette // Phoenigette // Blackfyre // Alissa // AxxKat // paperraine