Welcome one and all. I've finally decided to [hopefully] start up a collab that I'm interested in...
ELEMENTAL POWERS
In the past, it was thought that all of matter could be classified into easily viewable "elements" that one can observe with the naked eye. Thus, all of the world was made up of natural forces such as "earth, air, fire, water" et al. The discovery of the atom mostly disproved that, but the idea was so deeply rooted in mankind's mind, that it's still used in nearly every supernatural fictional setting. - Quoted from
TV Tropes
.
There are ample "elements" to choose from, including Earth, Fire, and Water along with the not so often seen ones such as Heart, Spirit, and Time. I will make a list below of all of the elements I could think of and/or come up with below. If we happen to get popular enough to need more slots, there is always the option of combining elements such as Fire/Wind.
RULES / INFO
01.
Visit here for a large list of elements and their descriptions.
02.
Until we see how many people will join, please only choose one element.
03.
There is no "theme" besides your doll being a being with their element. =) Pretty simple.
BASE CHOICE
Dorothee
by Mariiii's Dolls House.
Please follow her base rules that are listed on the file.
BACKGROUND
Working on figuring out what kind of background would look right with this collab.
Any kind of ideas or suggestions would be nice. So let 'em rip. I'd love to hear them.
ELEMENTAL CHOICES
KEY:
Finished
,
Element
, Owner
Air -
Gloria Evenstar
Creature -
Ellie
Darkness -
Frog
Death -
Laurel
Earth - Caelest
Fire -
OKami_hu
Heart -
OneSmartChicken
Ice -
Lyricanna
Light -
Caelest
Lightning -
Metal -
Krahka
Nature -
PixelingDoodler
Poison - Poe
Seasons -
mokia_sinhall
Sound -
Guitarlove
Space -
Mayha
Spirit -
Silvner
Time -
Awesome_floof
Water - Silvner
FINISHED PRODUCTS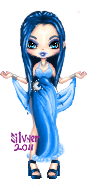 NEWS/UPDATES
04.02.11
The only spot left is
Spirit
, so if you'd like to join, feel free to grab it. You may also add other elements that aren't on the list.
I've decided on a May 31st deadline. That gives us a full two months to complete everything. Oh! And I think we should start thinking about what kind of background would look right. So, let me know!